With multitudes of marketing companies detailing the importance of digital strategy, marketing campaigns, and other listed marketing techniques deemed "fundamental" for your business to be successful, MYC Interactive has compiled the top tried-and-tested absolutely true factors that will make the difference between good online marketing and expert online engagement for your small or large business. These are this month's top 3 tips for better online marketing strategy your business needs.
#1 Contemplate Content
Are you content with your content strategy? Sure, you know your audience, you have set your strategy goals, and you know your brand vision better than anyone has known any vision for life and business in the history of all things branded, but can you post well?
Developing amazingly curated expert content for your social media account involves all elements of your brand – vision, services and products, and goals to create a distinct online voice or brand persona. Your business can do this through videos, engaging messaging, curated graphics, and much more. Seemingly topical, creating great content takes time exploring the unique facets of your offering with an objective lens. Do you know how first-time customers perceive your social media, website, and overall brand? This part of your marketing strategy can be tricky to navigate, but getting in touch with our team might help you better understand what you are capturing well and what you are missing for key conversion rates.
#2 Google Remarketing Ads
We get it, you want to increase engagement, get new and repeat business, and develop a digital marketing strategy that is cheap and easy. Marketing agencies aren't like they used to be. You don't need to be a fortune 500 company to be able to afford marketing for your business, and trust me you will want professional help.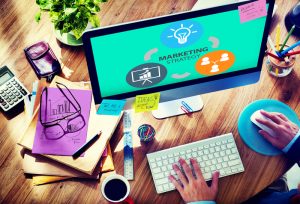 Google Remarketing Ads help you reconnect with people who have navigated to your website, after they have exited. Google Ads are reminder tools – you're not bombarding potential customers with unwanted advertisements; rather, you are reminding customers of the product or service they already searched for and converting them into paid business. Did you know that Google's display network reaches 90% of internet users worldwide, while 65% of users are reached every day? That means your business has the potential to reach over 1 billion users every month with online Google Ads.
We understand the burden of having to hire a digital marketing strategy agency struggling to figure out what you mean to say, online. At MYC Interactive, our experts were once where you are, and we are passionate about building your success through powerful marketing tools.
#3 Accessibility Features
When thinking about accessibility features, MYC Interactive's team thinks of both online mobile device accessibility and accessibility features designed to help those with disabilities navigate the internet with ease. Ensuring your website can be viewed on any mobile device is key to increasing user engagement across platforms. In addition, accessibility features that cater to existing and new customers allow easy navigation that everyone can enjoy. We recommend every business with a functioning website have both mobile accessibility and accessibility that caters to persons with disabilities to engage all future businesses.
Our team believes in the success of your business by offering the best in website development, content writing, and marketing strategy to meet the unique needs of your brand. Without the right tools to propel your business forward, your expertise will become sidelined by the competition. You conduct your business better than anyone! Don't lose out to the competition due to better strategy and engagement. Get in touch with our team to learn more about how we can tailor our offering to meet the needs of your specialized small or large business.