A lot of small business owners today feel that if they were to create a list of priorities for running their small business, a website wouldn't probably be in the top few. Some might think it is not even necessary to have a website. However, a lot has changed around us in the past couple of years. Covid-19 pushed more consumers to spend more time online and buy even essential products and services online. Today, besides the obvious Generation Z (Ages 10 to 25 years) and Millennials (Ages 26-41), even Generation X (Ages 42 to 57) prefer to rely heavily on the Internet to learn everything about a product or a service and the companies selling it.
This disconnect between small businesses and the growing number of consumers who choose brick-and-mortar businesses based on their online presence could be keeping entrepreneurs from millions of customers – and dollars.
A custom-built website not only helps small businesses promote and sell their products and services, but it also allows them to distinguish themselves from their competitors, especially for customers who rely heavily on the Internet to learn everything about a company. While there are many reasons why every small business should have a custom website, here are the top 5: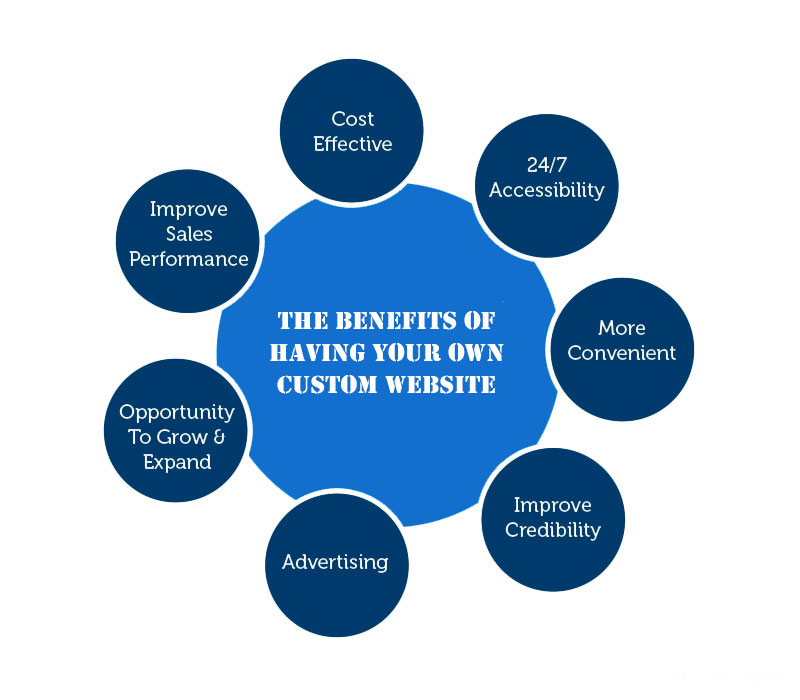 1. Websites make your business look more professional and credible
In today's times, you need a business website so that people trust your brand. Having a professional and customized website that's thoughtfully designed and filled with interesting content will go a long way in proving your credibility as a small business. Aside from giving your business credibility and a professional edge, a website can prove to potential customers that your company actually exists. 
2. Websites are affordable and easy to make
A website used to be expensive, time-consuming, and difficult to create. It's no surprise that many business owners might still be convinced that they simply don't need a website. But this is far from the truth. A credible web development company usually has a variety of packages for different kinds of websites and it is easy for a professional web developer to create a professional and custom website for you within your budget.
3. Your business is always available to customers
A website allows you to keep your business online 24/7. This is going to be invaluable to both you and your customers in many ways. A website not only helps in easing the flow of customer service queries but also helps in providing updated information about your products and services to potential customers. You can add as much information as needed to your website to help out your future customers and hopefully convince them to buy. 
4. You can attract new customers
Most small businesses think they have a thriving local business that serves the local community, and a website isn't required. But you might have even more customers ready to spend money with you – why miss out on that? A website makes it easy for new customers to stumble upon your small business organically as part of a Google search, or even intentionally through a referral. Enhancing website pages using search engine optimization (SEO) is one of the best ways today to attract new customers. 
5. Your website will empower you to compete with bigger brands
Small businesses often have a lot to offer customers over big brands, like more personalized services and unique products. But it isn't always easy for small businesses to show what they can offer, especially with lower marketing budgets and less of a reputation. That's where a professionally designed custom website can help. Besides allowing you to share business information and connect with new customers, a website can let you capitalize on local SEO and digital advertising when you want.
When you decide to get your website done, the best option would be to get in touch with a reliable web development company for custom website development and to guide you in the pre-website processes like domain purchase and web hosting. 
Give your business a digital advantage over your competition and get in touch with us for a custom website today